Vivid Sightseeing Cruise - Solace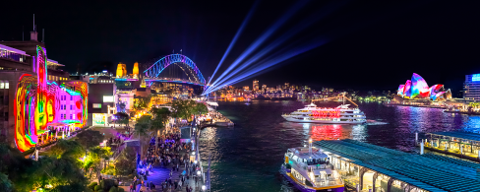 기간: 4 시
위치: Barangaroo, NSW
상품 코드: PUHMQS
Vivid Sydney runs from the 26th of May to the 17th of June, and transforms Sydney Harbour into a wonderland of 'light art' sculptures, innovative light installations and grand-scale projections.
Join us on Solace, which will be beautifully illuminated with lights synchronised with the VIVID installations around Sydney Harbour.

Solace is a stunning French 40ft Jeanneau Sun Odyssey. Designed as an elegant cruising yacht, Solace is spacious both on and below deck, and beautifully presented.

The cruise

We'll pick you up by powerboat tender at 7pm at the Barangaroo Crown Casino Pontoon, in front of the Crown Resort Sydney.
You'll board Solace, and cruise for 2 hours around the VIVID installations in Sydney Harbour.
Return to the pontoon by 9.30pm (leaving time for transfers).
A grazing platter will be provided onboard.
Soft drinks and hot chocolate can be purchased on board. This is a family-friendly cruise, but bring-your-own alcohol if desired (no hard spirits).